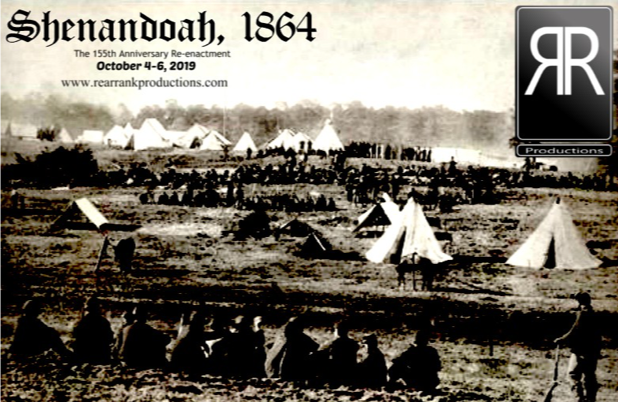 Shenandoah 1864 - Reenactors
Rear Rank Productions announces the upcoming
anniversary event, Shenandoah 1864, to be held
October 4-6, 2019., "Shenandoah, 1864" is the
155th Anniversary Re-enactment of Sheridan's
Valley Campaign. This event will feature unit
specific detailed battle scenarios, even handed
rule enforcement, correct force ratios, including
artillery and mounted forces by invitation only
, both campaign and garrison camping and unit
specific impressions.
The Rear Rank Productions team is excited to
continue on with the series of exceptional Civil War
events that have included Balls Bluff, At High Tide,
New Market Heights, Maryland My Maryland and
On to Richmond.
Registration will be limited to 2,500 military participants.
***Registration will be open for participants from 1pm till 11pm on Friday and again from 7am-10am Saturday ONLY.  All participants must sign the waiver upon arrival***
Registration List: Final
Here is the updated final registration list. If you have any questions or issues, please contact us by September 19th so we can work with you on any issues you might have. We must send the list to print on the 19th, and cannot make any changes after that date except on site, which we DO NOT want to do for your sake and ours.
US Registration List
Civilian Registration List
CS Registration List