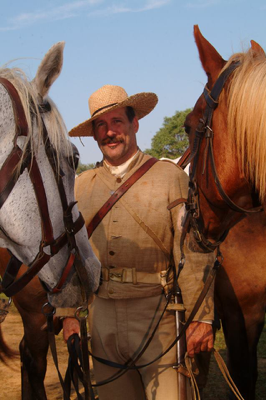 Captain Todd Kern,
Command'g
Confederate Cavalry
In order to provide proper force
ratios, Cavalry is by invitation only.
Guidelines:
Uniforms:
Richmond Type II or Type III is the preferred coat.  
1) Richmond Depot II-This is a 7-9 button jean, satinette or English cloth short jacket, with epaulets, some having belt loops as well. These were mostly lined in osnanberg, with either Wood, Block or Federal General Service Buttons.
2) Richmond Depot III- 7-9 button plan short jacket produced in imported English Cloth- mostly dark "blue gray" in hue with wood buttons preferred.
3) Peter Tait Jackets
Trousers: should be of Jeans, English royal blue clothe, or Blue/ Gray kersey. No federal sky blue.
1) Richmond pattern (jeans with buckle back belt and mule ear pockets
2) Civilian
Shirt:
1) CS issue made of undyed osnaburg
2) British import (Seldon shirt)
3) Civilian shirt (try to avoid wild prints)
Headgear:
1) Civilian Slouch hat of fur felt in a discernible shape. Black, tan, or gray.
2) English import slouch ( black)
3) Cap. They were receiving lots of caps
NO STAMPEDE STRINGS ON SLOUCH HATS.
Footware:
1) CS issue or civilian pattern bootees preferred! as this is what was being issued to cavalry
2) Federal shoes
3) Civilian boots of proper construction and pattern
Equipment:
Sword belts, no sabres on the saddle:
1) CS Spoon and Wreath
2) English Snake buckle
3) Roller buckle
4) Federal sword belt
Cap Pouches and Cartridge Boxes
1) CS Produced, federal as a second choice.
Canteens:
1) CS issued tin drum canteen
2) CS issued Gardner Pattern wood canteen
3) English import wooden canteen
4) US issue smooth side or Bullseye canteens
Note: Canteens to be worn on person whilst mounted and No canteen strap indian wars snaps.
Haversacks:
1) CS issued cloth haversack (should be of plain white duck or heavy cotton)
2) English Import cloth haversack (has buckle closure)
3) Civilian haversack (bed ticking) NO CARPETBAG haversacks.
4) US issued haversack.(last resort)
Horse Equipment:
Saddles: With appropriate Valise or saddlebags: i.e. no large CS style saddle bags on federal macs.
1) CS McClellan, a real copy not just changing the pommel shield.
2) Jenifer
3) Texas saddle, civilian or military
4) Civilian styles
5) Fed McClellan (last resort).
Breast Straps, none or:
1) Wool/Cotton worsted webbing surcingle
2) civilian pattern with either horse shoe or roller buckles i.e. period buckles.
NO HEART SHAPED breast plates...NOT an ISSUED ITEM except for officers and Grimsley equipment.
Headstalls:
1) CS halter/bridle
2) CS Issue 5 or 6 buckle headstall
3) Civilian with either horse shoe or roller buckles
4) US issue 5 or 6 buckle headstall. (last resort)
Bits:
1) CS hand forged curb bit
2) Period civilian curb bit.
3) period snaffle bit
4) US issue bit (last resort)
NO MODERN CHROMED BITS.
Reins:
1) Cotton webbing sewn on reins.
2) leather sewn on reins.
3) leather buckle (horse shoe or roller buckle) reins.
Halters:
1) CS issue single ring halter or halter/bridle
2) Civilian halter
3) US issue halter(last resort)
Saddle Blankets:
Should be wool or Spanish Moss with enough thickness to protect the horse. If you are using a civilian blanket be sure the color and/or pattern is period correct i.e.. no wild colors or patterns.
Weapons:
Long Arms:
1) P1856/58 Enfield 2/3 band rifle or carbine
2) Richmond rifle/ carbine
3) Mississippi Rifle and Austrian Lorenz Rifle.
4) Sharps, Spencer, Burnsides, or Smith carbine
5) JP Murray carbine or other CS produced.
Sabers:
1) English P1853 cavalry saber
2) Cavalry saber (heavy, some call 1840)
3) CS manufactured saber
4) Federal Light cavalry sabre
Sidearm:
 NONE or ONE per MAN, and NO SPARE CYLINDERS. And no saddle holsters.
1) M1860 Colt Army (no brass frame)
2) M1851 Colt Navy (no brass frame)
3) Griswold revolver.
4) Remington M1858
We leave carrying a sidearm up to each individual. NOT A REQUIREMENT.